Printed circuits board
Production of professional printed circuits boards

Thanks to our 25-year experience and proud of the achievement of the certificate UL, we can offer our customers an excellent quality in the realization of printed circuits.
Although our company is a medium-size firm, it is organized so that it is able to deal with customers, facing the problems related to the planning, the product engineering of the circuits and then creating the sampling with the following pre-series and series.
The production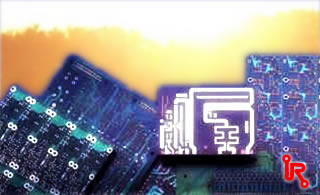 We are able to carry out the necessary equipment starting from the paper support or from many program files of different sizes.
In particular the production includes the whole range of basis materials that you need for the manufacturing of printed circuits, from FR2 to FR4, which are handled both on a side and on two sides, with or without metallized holes.
Besides we produce all kinds of surface treatment in Nichel, Gold, Silver, Tin Lead Free with Hot Air Levelling, complying with the RoHS (RoHS-Reduction of Hazardous Substances) provisions.
Reliability
In these years we have collaborated with several customers and suppliers. With their up-to-date technology they has allowed us to work out the problems related to the technological development that has occurred in this field, giving us the opportunity to satisfy every request, from civil to professional electronics..
The current production includes the most advanced techniques and guarantees the greatest reliability of the finished product, but also a flexible business management.
We'd very glad to show you even better our potentialities with the aim of achieve a good collaboration for the production of your printed circuits.